DC United, District reach final term on stadium deal
The stadium is expected to open for the 2018 MLS season
Jonathan O' Connell/TWP | 6/9/2015, 11:02 a.m.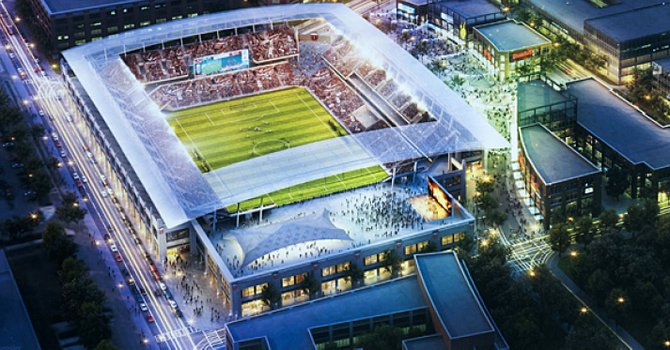 The team will also have to provide a stadium feasibility study to the city by Sept. 15, rather than by Nov. 15, two sources said.
Several Bowser administration official said that, although the timeline is aggressive, they believe they will have no problem hitting it.
The city has already negotiated land purchase prices for private parcels owned by Pepco, entrepreneur Mark Ein and a metal scrap yard. D.C. has not announced an agreement with another property owner involved, the developer Akridge, but is expected to invoke eminent domain in order to acquire the company's land. Under the terms of the deal with the team, D.C. will have to begin the legal process of taking that land by Sept. 30.
A D.C. Council committee is scheduled to consider legislation Tuesday that would allow the closure of the streets that run through the stadium site in Southwest, including parts of Potomac Ave., R Street, S Street, First Street and Half Street.
Because the final changes don't fundamentally affect the underlying agreement with the team, they are not expected to require separate approval from the D.C. Council. The council passed legislation last month extending the timeline for the deal and giving Bowser leeway to negotiate final details.
The agreement provides a framework for finalizing a deal more than two years in the making, but some risks remain. Capping the team's cost overruns gives United more certainty about what its final costs will be but leaves District taxpayers open to having to pay more for more than $150 million of the project.
Last week, Bowser said she didn't see a need to renegotiate with the team, calling the United offer a "very generous deal" and said she didn't know how the team could "get a sweeter deal than what we have on the table."
D.C. Council Chairman Phil Mendelson (D) said it appeared that since The Washington Post reported recently that the team was entertaining a counter offer from Virginia that Bowser's office used the hearing as a deadline to reach an agreement on final details.
Mendelson said he could understand why the team may have been frustrated and appeared to be seeking assurances from D.C. Mendelson said he, too, had seen little evidence of momentum since the council gave final approval five and a half months ago.
"It's not a criticism of the mayor, but what did the team get? I think they got some finality and things are buttoned down in a way that they weren't," he said.
Mendelson, however, added that under the terms released Monday, a stadium feasibility report now due before the city commits to buying the land at the end of September provides "outs for both sides" should cost estimates prove wildly off the mark.
But the chairman said he thinks the odds of the project derailing now are low. "I think we have a deal."