Let's talk business
DC Hispanic Business Expo 2015
Alberto Avendaño-oped | 3/26/2015, 2:45 p.m.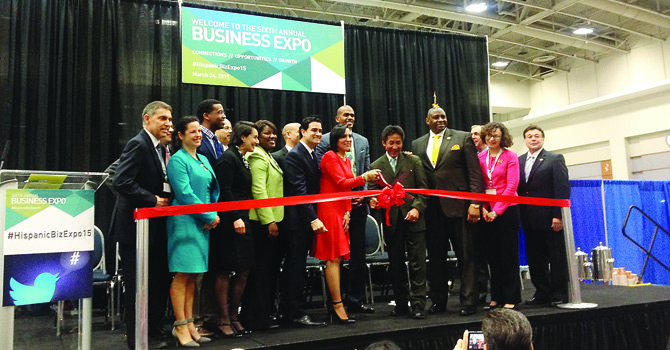 D.C. Mayor Muriel Bowser, U.S. Congresswoman Eleanor Holmes Norton, and Ambassador Francisco Altschul from El Salvador were among the top high-profile attendees at the Greater Washington Hispanic Chamber of Commerce (GWHCC) 6th Annual Business Expo: Connections, Opportunities and Growth on March 24 at the Walter E. Washington Convention Center
More than 2,000 attendees and 150 exhibitors were at GWHCC's premier event for Hispanic businesses. The event featured speed networking, business matchmaking, workshops, an international row showcasing 15 companies from Latin America, and the "Million Dollar Club" panel presenting five Hispanic CEOs who shared how they started their business and the challenges they faced.
The Hispanic Expo was a success. It was also the confirmation that Hispanics are entrepreneurial. Nationwide, there are more than 3 million Hispanic-owned companies that are now generating an estimated $500 billion in annual sales. In the D.C. metro area, the number of majority Hispanic-owned businesses increased 53.5 percent —from 2002 to 2007— to 44,428.
Although the number of Hispanic-owned businesses is rising, their owners still face challenges in order to grow. That's the reason I talked to my friend Natalia Olson-Urtecho—SBA Mid-Atlantic Regional Administrator. She attended the Expo and told me the keyword for growth: Exports. With the growth in global networks and communications, new markets are opening up for small business. And Natalia said that SBA is working with its partners across the federal government to increase both the number of exporters and the number of countries to which they ship. Key statistic: While fewer than 1% of U.S. firms export, U.S. companies that do export not only grow faster but are nearly 8.5 percent less likely to go out of business than non-exporting companies.
This takes me to the panel I had the privilege to moderate: "How to take advantage of the US Free Trade Agreements in Latin America." I really enjoyed the insights provided by my three great panelists/experts: Allen B. Green who heads the International Practice Group at McKenna Long & Aldridge; Kenneth Smith-Ramos who is the head of the Trade and NAFTA Office of the Ministry of the Economy of Mexico in Washington, DC; and Christopher Wilson who is the Senior Associate at the Mexico Institute of the Woodrow Wilson International Center for Scholars.
The conversation was rich and engaging. And I learned that —beyond the dichotomy labor rights & environmental issues vs corporate profit and growth— Free Trade Agreements are critical to expanding U.S. export markets by leveling the playing field for U.S. businesses.
The Business Expo and the International Symposium were two events where the entrepreneurial spirit was properly cultivated.
Avendaño is Executive Editor of El Tiempo Latino
alberto@eltiempolatino.com