Shooting at NSA headquarters leaves one dead
Shots were fired at Fort Meade, a military installation
By Dana Hedgpeth-TWP | 3/30/2015, 11:50 a.m.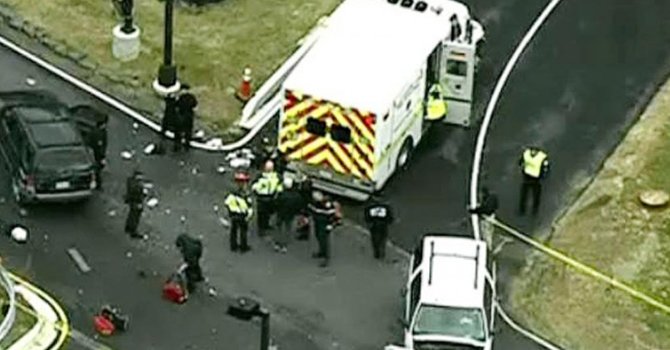 Washington, DC.— One person was killed and at least one other was injured Monday when shots were fired after two people in a vehicle tried to ram a gate at Fort Meade, a military installation in Anne Arundel County that houses the National Security Agency, according to officials with knowledge of the investigation.
Authorities did not release any details of exactly what happened, but law enforcement officials said police officers with the National Security Agency shot at the two people in the vehicle. One of them was killed, the officials said.
Just before 11 a.m., NSA officials said they had no further information.
In a statement, issued around 11:30 a.m., the FBI Baltimore office said they were investigating a shooting at a gate at Fort Meade.
"The shooting scene is contained and we do not believe it is related to terrorism," said Amy J. Thoreson, a spokeswoman for the FBI. She said the incident is being investigated by the FBI with NSA Police and other law enforcement agencies.
FBI crews from its evidence response team are processing the scene and agents are doing interviews with witnesses, she said.
The military installation of Fort Meade in Anne Arundel County has about 11,000 military personnel on site and another 29,000 civilian employees, according to its Web site. The facility sits near the areas of Odenton and Laurel and is the third largest employer in Maryland. It houses other federal agencies in addition to the NSA.
At the Fort Meade police headquarters, a spokeswoman said "preliminary information" was that two people showed up injured at the gate of the facility." She gave no other information.
Local television cameras showed two vehicles that were damaged near a gate at the military base. One emergency personnel worker appeared to be loaded into an ambulance.
Marci Miller, a spokesperson with the NSA public affairs office, said there was an incident near the campus but could not release further details.
Earlier this month, a Beltsville man was arrested in a string of shooting incidents at public buildings around suburban Maryland, including one shooting at a NSA building. The building is along a stretch of road just east of the Baltimore-Washington Parkway, separate from the agency's Fort Meade headquarters.
Hong Young, 35, who was a former prison guard was a suspect in shootings at nine locations. No one was seriously injured in any of the incidents, which also occurred outside stores and along an interstate in Maryland.
He told investigators that he was "hearing voices" that told him to fire the shots. Police found 10 firearms, hundreds of rounds of ammunition and a crossbow in a search of his home.