Obama takes immigration leniency plan to the Supreme Court
The Obama administration asked the Supreme Court on Friday to overturn lower courts and declare that the president has the authority to allow millions of illegal immigrants to remain and work in the U
By Robert Barnes | 11/22/2015, 6 a.m.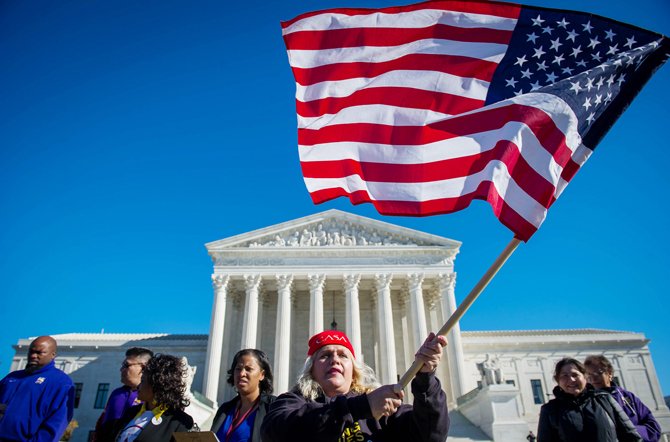 Texas and others said the plan runs afoul of federal laws and saddles states with providing benefits for millions of people who would become eligible for work permits and other forms of government aid.
"Three times federal courts have ruled in our favor, and we stand ready to continue defending the rule of law against the president's unconstitutional use of executive power," said Cynthia Meyer, a spokeswoman for Texas Attorney General Ken Paxton (R).
A federal district court and then two panels of the U.S. Court of Appeals for the 5th Circuit in New Orleans agreed with the states' arguments. Both courts have kept the program from being implemented.
In the most recent decision, U.S. Circuit Judge Jerry Smith wrote that DAPA goes beyond the law enforcement concept of "prosecutorial discretion," in which a government with limited resources sets priorities for enforcement.
"Deferred action . . . is much more than nonenforcement: It would affirmatively confer 'lawful presence' and associated benefits on a class of unlawfully present aliens," he said. "Though revocable, that change in designation would trigger" eligibility for federal and state benefits "that would not otherwise be available to illegal aliens."
Smith was joined by Circuit Judge Jennifer Walker Elrod.
Circuit Judge Carolyn Dineen King dissented. She said the program was exactly the kind of decision about deportation that the law entrusts to the executive branch. Those eligible for the program must apply, and decisions are made on a case-by-case basis, she said.
"Both 'lawful presence' and 'deferred action' refer to nothing more than DHS's tentative decision, revocable at any time, not to remove an individual for the time being — i.e., the decision to exercise prosecutorial discretion," she wrote.
She added: "The policy decisions at issue in this case are best resolved not by judicial fiat, but via the political process. . . . This case essentially boils down to a policy dispute."
King also criticized her colleagues for delaying the decision; the ruling saying the law could not proceed took four months.
Time is critical if the Supreme Court is to review the matter while the Obama administration remains in office.
Generally, the court must accept a case by January to schedule it for oral arguments and a decision before the court's term ends in June. Verrilli's filing Friday starts a process that would allow the court, absent any delays, to do just that.
But experts on the court note that the justices could also make special accommodations for a case that carries such important questions about federalism and the balance of power between the political branches of government.
If the court accepts the case, the decision would come just months before Americans go to the polls to elect a new president.
It would be adding to a docket filled with election-year controversies: a review of abortion restrictions passed by the states, whether universities may consider race when making admission decisions, and whether religious freedom means that some organizations do not have to comply with a mandate in the Affordable Care Act requiring insurance coverage of contraceptives for women.
Verrilli's petition relies heavily on a 2012 Supreme Court decision that struck down parts of an Arizona law restricting immigration and said "the removal process is entrusted to the discretion of the federal government."
The administration challenges the lower court's findings that Texas had legal standing to sue because DAPA's designation that the immigrants would be legally present in this country meant they would be entitled to state driver's licenses. The petition said that was because of Texas's rules, not anything that is in the president's order.
Verrilli also disputed the lower court's ruling that the DHS secretary had exceeded his authority in issuing "guidance" about how to treat the illegal immigrants.
Under the appeals court's reasoning, Verrilli said, immigration statutes allow the secretary to decide that individuals may remain in the country for a period of time "but is barred from enabling them to work lawfully to support themselves and their families while they are here. Congress did not constrain the secretary's broad discretion to such half-measures."
The case is United States v. Texas.
Also of interest