The Immigration Film Festival is personal
October 22-25, Washington Metropolitan Area
Alberto Avendaño-oped | 10/21/2015, 3:26 p.m.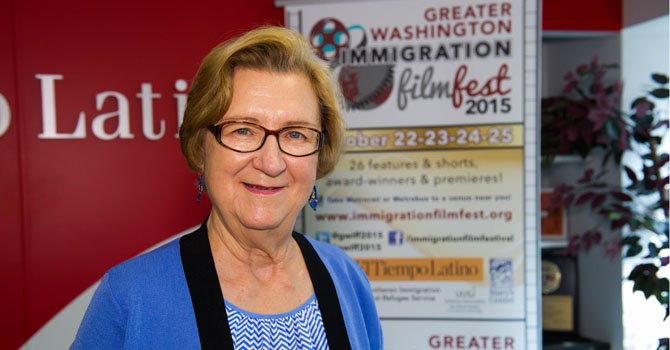 "We are all immigrants". No, this is not a soundbite out of an immigration rally. This is what Patti Absher told me in an interview. She is the Director and co-founder of the Greater Washington Immigration Film Fest (GWIFF), October 23 through 25. Each time I talk to Absher, I surrender, I relinquish all my prejudices, all my "buts." She makes me deeply understand that immigration is not the issue of the day corraled by politicians armed by a clamorous ignorance or a disturbing toupee. Immigration is a human phenomenon, immigration is personal.
What is it like to give up your home, your friends, and loved ones and strike out for the unknown? Why would anyone ever do that? How do you survive in a strange place with different language and customs?
Several years ago, some members of the Washington Ethical Society asked themselves these very questions.
At that time, it was clear that the window had closed for getting congressional relief for the estimated 11 million undocumented immigrants living in the US. "We wanted to draw others into the issue", said Absher. "Going to immigrant rallies on the Mall was one way but wanted to do more."
What if there was a special film festival that could shine a light on the human face of immigration? A festival that would entertain, inspire, and empower many people. "Perhaps even motivate them to build stronger communities, recognizing the contributions of our recent immigrants. Thus was born the Greater Washington Immigration Film Fest."
Saturday, October 24, at the UDC Theater of the Arts in Washington, the Gala Reception for the GWIFF will take place, including the world premier of "Dream: An American Story", by my friend and award-winning director, Aldo Bello. This is a great documentary featuring Juan Gómez and Gaby Pacheco whose stories engaged and catalyzed a youth movement of DREAMers and their supporters that have shaped immigration policy over five years. Gómez was deported after graduation from Georgetown University and lives in Brazil where he works in the financial sector. Pacheco works for the Dream.US an organization co-founded by the former owner of The Washington Post, Don Graham. Gómez and Pacheco will attend the premier at UDC.
In The List, a film about a USAID worker trying to find and rescue his endangered Iraqi co-worker, an Iraqi colleague quotes Mother Theresa: "She said that the opposite of love is not hate but... indifference". "Viewers seeing these films cannot be indifferent", says Absher.