Kim Davis: Legally failing in her stand against same-sex marriage
Ms. Davis swore to uphold the Constitution with her hand on a Bible
Paul A. Samakow | 9/5/2015, 2:07 p.m.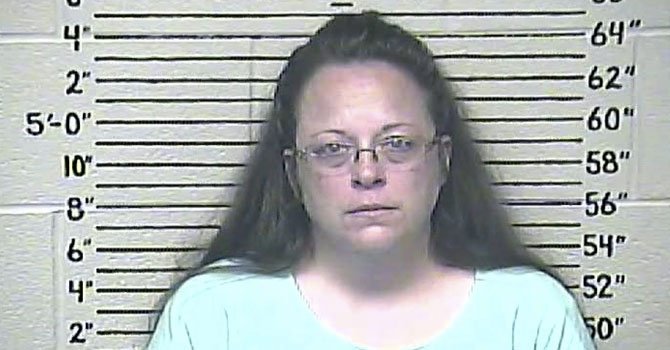 Her refusal to grant marriage licenses is not on a level of causing wars or deaths. Neither is it a trivial non-action that can be written off as a nuisance.
Her refusal is affecting the rights of others.
Newspaper reporters go to jail to protect confidential informants, in violation of court orders to disclose their source of information. Their refusals are not nuisances and they affect, so we would be led to believe, the rights of others seeking justice or other goals.
The problem for Davis is that she had many options to express integrity with her beliefs, and she chose to take the path that accomplished nothing. The judge told her before sentencing her that she could appoint any of her deputy clerks to issue the marriage licenses. She refused to do so.
Her incarceration will not advance the cause of those holding her beliefs, nor will it prevent same-sex marriage licenses from being issued in her county. The "world" noticing her serves no purpose.
Some who have commented have observed that Davis swore to uphold the Constitution with her hand on a Bible; they argue that she didn't swear to uphold the Bible with her hand on the Constitution.
Having an opinion that you are "right" does not always mean you should act on that opinion. History, however, thank goodness, has sometimes proven otherwise.
Kudos, Ms. Davis, for having the courage of your convictions. You should have simply resigned your position.
———————————————————————————————————————
Paul A. Samakow is an attorney licensed in Maryland and Virginia, and has been practicing since 1980. His book "The 8 Critical Things Your Auto Accident Attorney Won't Tell You" can be downloaded instantly from his website: http://www.samakowlaw.com. Mr. Samakow's "Don't Text and Drive" campaign, El Textarudo, has become nationally recognized. Please visit the website http://www.textarudo.com and "like" the concept on the Facebook page http://www.facebook.com/textarudo.
Also of interest