Trull tells the "armed conflict" of El Salvador
WAMU's Senior reporter saw first-hand the throes of a country wounded by violence
Alberto Avendaño-ETL | 9/7/2015, 6:17 p.m.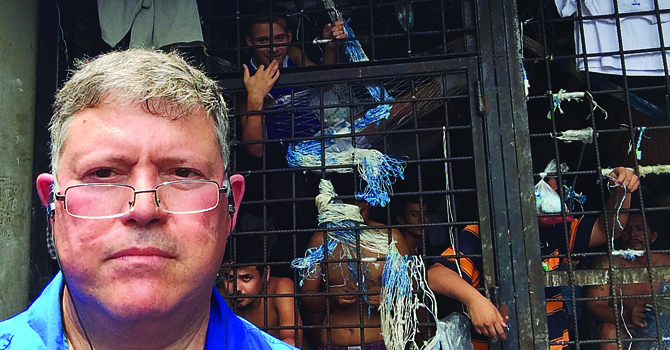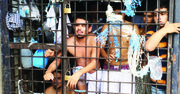 During a handful of days, he tallied a reality that while not unexpected did not lose its ability to shock him to the core. He photographed wounded gang members behind bars, desperate mothers as well as those who hadn't abandoned all hope. He took selfies with gang leaders and police officers and in front of "bartolinas" the name given to police lockups.
During the last two weeks of August, Trull visited El Salvador to see first-hand the throes of a country wounded by violence. The trip was part of an agreement between Trull's employer- the local NPR news station WAMU 88.5 FM, El Tiempo Latino and Telemundo Washington DC.
"I never imagined I would return to an El Salvador so bloodied and so menaced by the specter of another armed conflict," Trull told me while he was still there. "I call it an armed conflict because in a way that is how it's being framed, albeit unconsciously, by the actors in this unholy drama. Death makes its debut every day in the alleys, parks, buses and schools of El Salvador," he noted.
Trull's nearly three decades of experience as a journalist are no vaccine for the horror of a month that saw 907 deaths, making it the deadliest ever. "And that's in a country where death has always made itself at home," he said sadly. "Police officers, teachers, street vendors, bus drivers, gang members, suspected gang members, men, women, youth. All dead!"
Trull reflected on the political and sometimes incongruous aspects of the bloodshed.
"The Salvadoran government passes a new law that brands gang members as terrorists as well as anyone who it considers an apologist while gangs and their spokespersons say they are ready to sit down and talk even as the murders and extortions continue." He explained.
Trull witnessed how "Pastors who advocate for a peaceful dialogue and journalists who denounce police death squads are threatened"
Two days after the WAMU 88.5FM reporter arrived in El Salvador, there was a prison massacre and he rushed to the scene.
Authorities in Quezaltepeque prison, about 25 km from San Salvador, discovered 14 gang members, all belonging to Barrio 18 ( Revolucionarios faction) had been knifed and strangled to death. Officials called the horrific incident an internal purge by other members of the same gang.

"This prison massacre was the result of a "palabra" a deadly word whispered quietly, from another infernal prison miles away. That serpentine hiss sealed the fate of the 14," explained Trull.
Trull went to prisons and bartolinas where he videotaped, photographed and documented truly moving things-
"I saw on the nearly emaciated body of a 17-year-old gang member, the story of his nasty, brutish and most likely short life. It was written on his flesh. His stomach had zig-zag knife scars and unhealed gunshot wounds where you could see his intestines poking out" In that same prison he adds "I saw human beings in hellholes no one deserves to be in, regardless of how vile their crime."
Trull says as newspapers tallied the August murders on a daily basis "I could sense a quiet desperation within many Salvadorans about what tomorrow could bring. "Who will Death steal ?" "A son?, A sister? A father or wife?"
Still, Trull says "not all is lost" as evidenced by another conflicting emotion he saw within many Salvadorans.
"The unbowed spirit of those who despite the scourge of violence and terror get up every morning and face their reality with courage and optimism. They go to work, go to school, protect their own and fight for a better life and a better country."
Trull will share those stories in a radio series beginning September 8 on WAMU 885FM and wamu.org in English and in Spanish in el Tiempo Latino and Telemundo, Washington DC.
Also of interest