Md. Lt. Gov. reaches out to Latinos, finds concern over immigration
The state will notify federal immigration authorities when illegal immigrants held at the state-run Baltimore City jail for other crimes are scheduled to be released.
Antonio Olivo/The Washington Post | 9/10/2015, 6 a.m.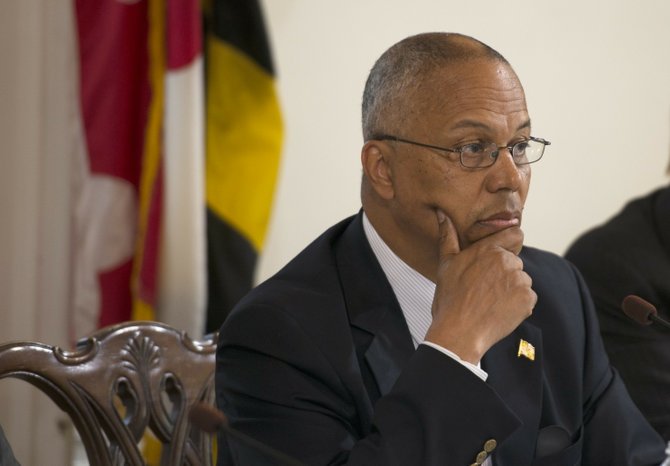 Washington, DC.- The administration of Maryland Gov. Larry Hogan (R) sought Tuesday to strengthen ties with the state's growing Latino community, but was greeted with worry over Hogan's recent decision to cooperate more fully with federal immigration authorities on potential deportation cases.
At the Hispanic Business Conference in Bethesda, Lt. Gov. Boyd Rutherford (R) called Latinos in the state "an integral part" of the administration's efforts to beef up Maryland's economy.
"We want to make Maryland, again, open for business and particularly for the over 40,000 Hispanic businesses in the state that have chosen to invest here and to expand here," Rutherford said during a keynote address. He also announced Hogan's appointment of members to a state Hispanic commission to promote social, cultural and business interests.
Many in the audience of about 400 applauded Rutherford's remarks, which emphasized the reduction of some of the government red tape with which small businesses contend and underscored the 14-year-old annual conference's mission of helping new and existing Latino businesses succeed in Maryland.
But the cheers grew louder when speakers who followed the lieutenant governor at the podium delivered not-so-veiled criticism of Hogan's decision to notify federal immigration authorities when illegal immigrants held at the state-run Baltimore City jail for other crimes are scheduled to be released.
The move has drawn fierce opposition from immigration advocates, who called it a departure from the position held by Hogan's predecessor, Martin O'Malley (D), who refused requests from the Obama administration to coordinate with federal law enforcement whenever a detainee was being released.
"Don't be afraid, lift up your heads high, and continue working hard," Pedro A. Palomino, who owns a popular Spanish-language news Web site in Baltimore, urged undocumented immigrants in the audience, while accepting a "stellar award" at the event.
Palomino, who delivered his speech in Spanish, later called Hogan's decision damaging for relations with Latinos in the state because, while geared toward violent criminals, it also could affect people incarcerated for traffic violations and other minor offenses.
"What the former governor comprehended is that the Latino community is the base of this state," he said, noting that Latinos in Maryland are slowly acquiring more influence in Annapolis. "But I believe Governor Hogan still can correct this."
When asked about the resentful remarks, Rutherford said the reaction to Hogan's decision isn't a major obstacle to strengthening overall relations with Latinos in Maryland.
"It's not where you're doing a sweep or anything," he said, noting that the Hogan administration is merely complying with a request from the Obama administration.
"You're notifying federal authorities when someone is being released from the detention center. If the community has a concern about that, we can work on it together."
Others at the event said they simply want the Hogan administration to do more to help Latinos excel in Maryland.
The day-long conference was a showcase of entrepreneurial spirit, with booths set up inside a ballroom advertising businesses in cluding health-care services, food products and event planning.
Eric Alberto Reid staffed a booth advertising the chocolate his company sells, made from cocoa beans and other ingredients that he and his wife, Crisoire, grow on land they own in the Dominican Republic.
Although the couple's story is a classic up-from-their-bootstraps tale of hard work and patience, Reid said the property taxes they have to pay in Maryland are weighing them down.
"When you look at a small business having to pay a personal property tax of $1,200, $2,000 or $3,000 a year on equipment, I think that's pretty ridiculous," Reid said. "I think they need to come up with better incentives to retain companies in Maryland and to attract companies in Maryland."
Click here for more information!
Rocio Rodriguez, who recently launched an educational services company in Montgomery County for high school and college students, said that more Latinos need to be in a position to start their own businesses or to find work.
"All these kids are lost," she said. "They don't have any mentors. They have to finish school. And then they can find a way to help their families."