Snow blanketing Washington region expected to turn into freezing rain by mid-afternoon
The snowfall that blanketed the Washington region Monday morning is expected to transition into sleet and freezing rain that could create hazardous conditions by mid-afternoon.
By John Woodrow Cox, Tara Bahrampour and and Fenit Nirappil | 2/15/2016, 4:36 p.m.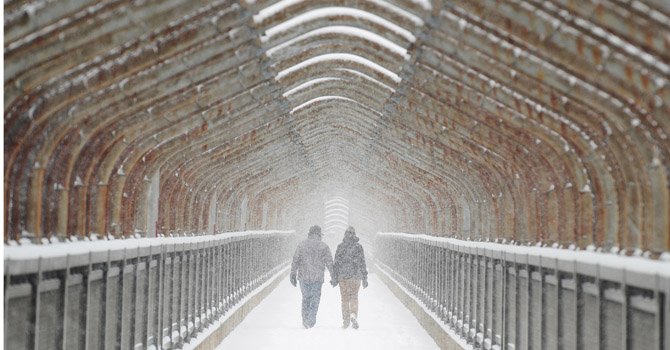 Around noon, after waiting for 20 minutes in the thickening powder, 75-year-old Louis Gooch pressed the button on the bus shelter at 13th and K streets in Northwest D.C. The next city bus, a mechanical voice intoned, would arrive in another 24 minutes; the one after that in 56.
Two other men grumbled and walked away. Gooch raised an arm halfheartedly as a red bus whooshed through the slush and stopped at the next block. He shook his head. "I should have caught that Circulator."
When Gooch, a retired courier, left his home Monday morning, he didn't expect to be out long.
"I had to pick up a prescription for my wife. She lives in Chinatown," he said. "We're separated. If you don't get along, you don't live together. It doesn't mean you don't stay friends."
There are friends and then there are friends who wait at blustery bus stops for 44 minutes. Finally, a bus appeared down the block. "I think that's another Circulator," he said, and hurried across the street to catch it.
Emilio Chavarria was also among those who ventured into the storm.
Before leaving home at 6:30 Monday morning, he put on three pairs of pants, in case he had to work outside. Though the snow had waned, his Honda Civic briefly got stuck during his commute from Arlington to the concrete company in downtown D.C. where he works as a safety representative.
Normally, he would have been sent to a site, but when the snow resumed, work was stopped. Chavarria, 27, worked at the office until midday, when employees were sent home.
Ducking into a nook in a building on L Street, he and a colleague, Leyder Reza, smoked cigarettes and talked about concrete.
When pouring the stuff, the problem isn't the cold — it's the wet. "The snow mixes in with the concrete and makes it harder to set," said Reza, 28, of Temple Hills, Md.
They finished their cigarettes and Reza headed toward his truck. Chavarria decided to go home and rest for the long week ahead, but when he arrived, his sidewalks were smothered in white powder.
So, he kept on his three pairs of pants and grabbed a shovel.
Ovetta Wiggins contributed to this report.