A declaration of independence from Donald Trump, a vote for Hillary Clinton
Election 2016
Alberto Avendaño | 11/6/2016, 11:38 a.m.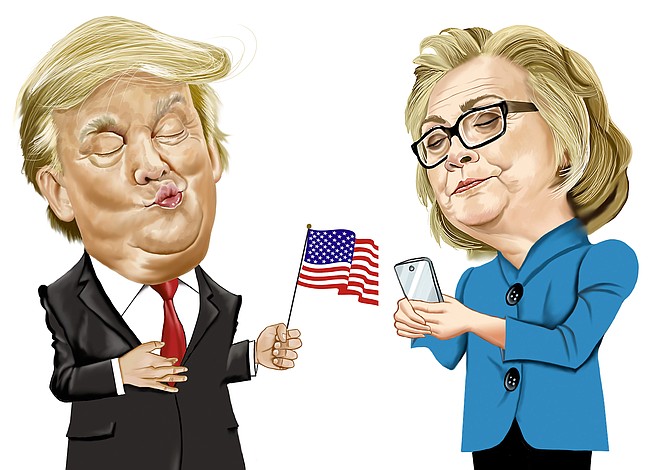 When in the course of human events a presidential election grows replete with dangerous attitudes, postulates and words, it becomes necessary for one to dissolve his or her neutrality towards a candidate, and decent respect to the opinions of mankind requires that citizens declare the causes which impel them to depart from said neutrality.

As stated in our Declaration of Independence, I "hold these truths to be self-evident, that all men are created equal, that they are endowed by their Creator with certain unalienable Rights, that among these are Life, Liberty and the pursuit of Happiness." And to secure these rights and to overcome the threat of any oppressor, it lies in the hands of citizens, and this writer, the power to disrupt and break any relationship with politicians or candidates with aspirations to govern over us and the decision to act civically against them.
Such civic action, voting in this election cycle, is complex since this writer has failed to bestow his complete confidence in the alternative. But the vote is necessary and our vote is for Hillary Clinton. The only alternative.
Why not Donald J. Trump? Because when a long train of abuses, insults, and threats evinces a design to reduce the people under absolute despotism, it is my right, and it is my duty, as a citizen and political commentator, to help overthrow the oppressive figure that rises before me.
The tale of this American presidential candidate is an account of damages to the democratic and emotional stability of the country told by a tyrant whose words and falsehoods harbor hatred towards fellow citizens and members of the global community.
Trump has tried and convicted in the public square of fanaticism political opponents, judges, media, immigrants and other human beings.
Trump has built walls of doubts and fabricated conspiracy theories that damage our judicial and democratic structures while projecting a light of discredit and contempt on many public servants.
Trump has manipulated our American reality to make us believe —as it is the belief of the militants of racist and neo-Nazi organizations attending his rallies— that the first African-American President in US history is pro-Islamist and seeks to destroy the white race.
Trump has insulted our democratically elected politicians and the current leadership of the nation not only with inappropriate words, but by articulating a message that portrays them as less competent and with fewer leadership skills than the leaders of foreign dubious democracies and leaders of countries that maintain a tense relationship with the United States.
Trump has positioned himself against the new Americans by questioning US legal immigration practices, opposing laws that would open a door to hope for millions of undocumented immigrants with family in the United States, rejecting the Citizenship Clause of the Fourteenth Amendment to the United States Constitution, and covering with a mantle of doubt all those who aspire to the American Dream.
Trump has questioned the independence of judicial power, one of the pillars of our democracy.
Trump has grown and enlarged during the course of his presidential campaign relationships with racist groups and individuals that would become disturbing allies in the case that he is elected President of our free and diverse nation.
Trump has threatened to take military action and enact international aggressions that only a dictator would be able to implement.
Trump has called Americans to insurrection and articulated a rhetoric of hostility among the American people of unpredictable consequences.
Trump is a candidate whose character is marked, in words and actions, by the seal that defines a tyrant. This disqualifies him to be the ruler of a free people.
I, therefore, a humble columnist, on behalf of the inalienable right to free public expression bestowed upon me, solemnly request that you vote, but never for the Republican candidate Donald J. Trump. And thus, I, as a free citizen vested with the responsibility of making my vote count and holding my public officials accountable during their time in office, ask that you cast your vote for the Democratic candidate Hillary Rodham Clinton for President of the United States of America.
Also of interest