Jackie Reyes
Director | MOLA
6/21/2017, 3:42 p.m.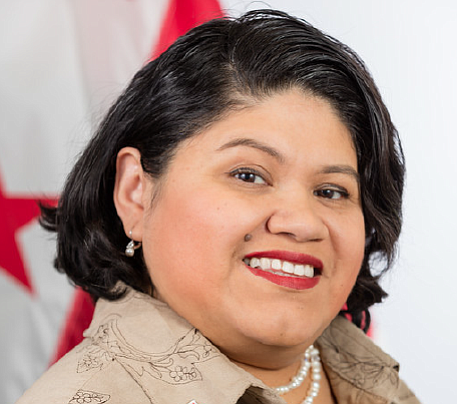 Jackie Reyes is the Director of the Mayor's Office of Latino Affairs (MOLA). Born in El Salvador and an activist for years in Washington D.C., Reyes is a key player member of Mayor Muriel Brower's administration. Reyes oversees not only the agency's 10 member staff, but works together with community organizations and commissions in developing and submitting grants. Pryor to MOLA, Reyes worked with councilmember Jim Graham (D-Ward1) as the Latino Affairs and Community Outreach Director. Reyes achievement included organizing gang prevention events to reduce street violence and crime, and helping secure funds to finance the reconstruction of Monseñor Romero Apartments, in Mount Pleasant which were destroyed by a fire in 2008.
---
Reyes Jackie es la Directora de la Oficina del Alcalde para Asuntos Latinos o (MOLA). Salvadoreña de nacimiento y activista por años en Washington D.C., Reyes es un miembro clave de la gerencia de la Alcaldesa Mayor Muriel Brower. Reyes supervise no solo los 10 empleados de la agencia, sino también las operaciones relacionadas a desarrollar y presentar solicitudes de becas, conjuntamente con organizaciones comunitarias y las comisiones. Antes de unirse a MOLA, Reyes trabajó con el Consejal Jim Graham (D-Ward1) como la Directora de Latino Affairs and Community Outreach. Entre los logros de Reyes se incluyen haber organizado eventos para generar conciencia y prevenir las pandillas en la comunidad y así reducir la violencia y el crimen, así como asistir en la recaudación de fondos para financiar la reconstrucción de los apartamentos Monseñor Romero Apartments, en Mount Pleasant que fueron destruídos por un incendio 2008.
Also of interest