José Ramón Andrés Puerta
Chef & Owner | ThinkFoodGroup
6/21/2017, 2:36 p.m.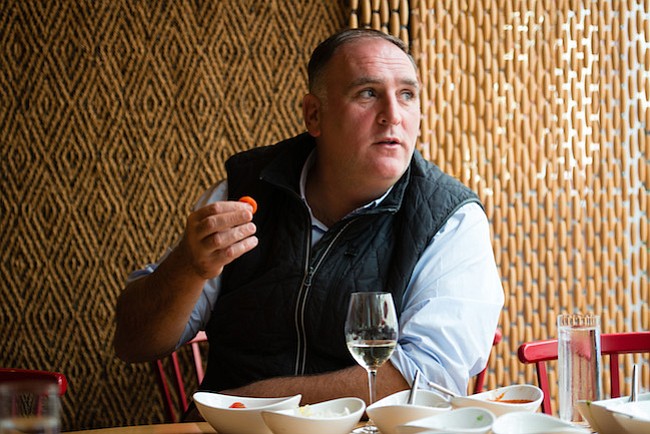 José Andrés is the chef and owner of ThinkFoodGroup. An immigrant from Spain, José Andrés founded in 2012 World Central Kitchen, a nonprofit that provides smart solutions to hunger and poverty by using the power of food to empower communities and strengthen economies. He owns 26 restaurants through the US. His hard work and commitment to the Hispanic community and culture have earned him awards and distinctions including the 2017 Lifetime Achievement Award from International Association of Culinary Professionals and the 2015 National Humanities Medal, one of twelve distinguished recipients of the award from the National Endowment for the Humanities. Andrés was also named EY Master Entrepreneur of the Year in Greater Washington for his leadership and impact on the global business community and obtained the Congressional Hispanic Caucus Institute's Chair's Medallion Award.
---
José Andrés es el cocinero y propietario de Think Food Group. Considerado uno de los hombres más influyentes de Estados Unidos por la revista Time es un inmigrante de España. José Andrés fundó en 2012 World Central Kitchen, una organización sin fines de lucro que ofrece soluciones inteligentes para el hambre y la pobreza utilizando el poder de los alimentos para empoderar a las comunidades y fortalecer sus economías. Posee 26 restaurantes a lo largo de los Estados Unidos. Su arduo trabajo y su compromiso con la comunidad y cultura hispanas le han valido premios y distinciones incluyendo el premio 2017 Lifetime Achievement de la Asociación Internacional de Profesionales Culinarios y la Medalla Nacional de Humanidades 2015, uno de los doce distinguidos receptores del premio de la Fundación Nacional por la Humanidades. Andrés también fue nombrado Emprendedor EY Maestro del Año en el Gran Washington por su liderazgo e impacto en la comunidad empresarial global y obtuvo el Premio Medallón del Presidente del Congreso Hispano Caucus Institute.
Also of interest