McDonald's: A franchise with Hispanic flavor
El Tiempo Latino & Coca-Cola recognize at the Powermeter Washington D.C. ceremony six Hispanic entrepreneurs for their outstanding business achievements in the area.
//Lee este articulo en español//
Four families of entrepreneurs run and operate more than 50 franchise restaurants in D.C., Maryland, and Virginia and employ more than 3,000 people. One of the restaurants, the modern establishment at Rosslyn stands out for being among the most high-tech and advanced facilities in the country.
Through the family business, these entrepreneurs who have made the taste for fast food a business tradition - one that has passed on from generation to the next - and a sure recipe for success, have also nurtured for years the art of serving their communities with the typical Hispanic warmth.
The success story of Carlos Mateos and Carlos Mateos Jr., Joseph and JJ Montoya, Luis Gavignano and Ana Takata merits a special Powermeter Award distinction endowed by El Tiempo Latino. This Award presented by Coca-Cola recognizes them as the most influential entrepreneurs in the Washington D.C. Metropolitan area.
McDMateos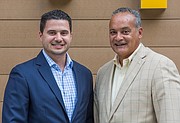 The Cuban-born businessman Carlos Mateos began his career as a McDonald's franchisee 18 years ago, and since that time, Mateos and his family have opened 16 restaurants to service the Washington D.C. Metropolitan area.
In Rosslyn, Virginia, now the location to one of the most modern McDonald's operations in the country, is where his story with the company began.
"Here where we are situated today, I bought my first restaurant. I am working here not only with friends but my two daughters, my two sons, and even my wife. This is a family business," said the proud owner who has dubbed his restaurant chain McDMateos.
This same place is now operated by his son, Mateos Jr. It went through a recent renovation that included the addition of a modern technological platform for placing orders. It also has kiosks to order table service and features an app to order via smartphone and pick up the order in any of the other restaurants.
"I spent my life watching my dad. How he went ahead with perseverance to do something for us, and he did. There are many opportunities for Hispanics, and we are here to help them," said the young entrepreneur. His group has devised plans to reach the Hispanic community with social programs. One of them is the scholarship RMHC/ HACER. It provides financial aid to high school students with limited resources and opportunities for professional growth and educational access.
"We have given more than a million dollars in scholarships to Hispanic youth," said Mateos on the benefit awarded the Ronald McDonald's House Charities Foundation based on academic achievement, community service and financial needs of students.
Grow with the business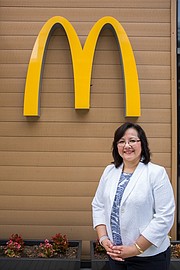 A cashier at a McDonald's in Alexandria, Virginia. That is how the Peruvian Ana Takata started her relationship with McDonald's. A relationship that has grown to allow her to own four restaurants in the metropolitan area of Washington D.C. and employ nearly 200 people.
"As owners and operators of restaurants in Maryland and Virginia, my husband and I have lived a very beautiful experience because we were employees of the company, started from the bottom, and now we can apply that knowledge in the operation of the stores we own and to train our employees," she said.
Also of interest