Opening happiness for Latino Entrepreneurs
Coca-Cola's Eric Johnston III honors successful group of Hispanic McDonald's operators with the Powermeter Achievement Award
El Tiempo Latino | The Powermeter | 6/22/2017, 2:06 p.m.
//Lee este articulo en español//
Eric Johnston III is the person in charge of delivering the Powermeter Achievement Award to a small but significant group of McDonald's restaurant operators. These are individuals who have excelled as entrepreneurs in the Hispanic community: Carlos Mateos, Carlos Mateos Jr., Ana Takata, Luis Gavignano, Joseph Montoya and JJ Montoya.
Eric Johnston III is responsible for managing the government relations of Coca-Cola Bottling Consolidated and for him to award the prize is "like opening happiness."
"McDonald´s is a great partner of Coca-Cola, so not only do I feel very honored, but it makes me very happy to give this recognition to a group of entrepreneurs, people that strive and persist to achieve success. One of the things that make our country great is the celebration of a hard, honest work and a well-done job," says Johnston.
Coca-Cola Bottling Consolidated is the largest of the Coca-Cola franchises in the United States. It is a century-old powerful company that makes, sells and distributes Coca-Cola beverages, more than 300 brands and flavors in 16 states and more than 50 million consumers.
Johnston III operates in Washington, DC and around the most important government centers in the Atlantic region and the country, so the word "power" has a very straight forward meaning for him.
"Power is relationships. We have to cultivate and celebrate our relationships because if we don't establish genuine human connections, people will not listen to you even if what you have to offer to them is very good," reflects Johnston.
The award Johnston gives on behalf of Coca-Cola to the Mateos, Gavignano, Takata and the Montoyas is for their contribution as business owners who have achieved their goals and who have an extraordinary opportunity to grow.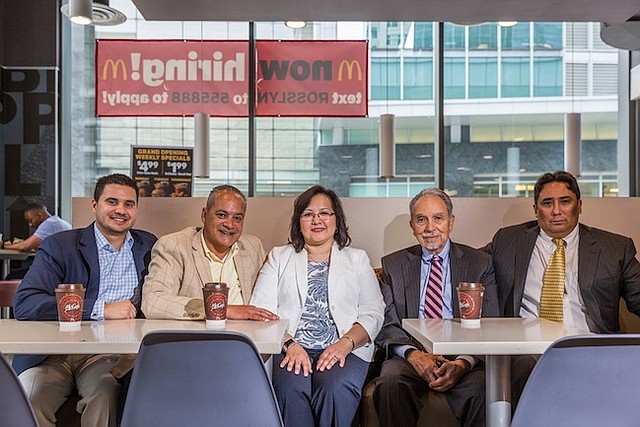 "What I recommend to these entrepreneurs is that they do not stop concentrating on the quality of their products," advises Johnston. "But keep an eye on your communities, your customers in general, and especially those within the Hispanic community as they will always give you opportunities to grow if you take them into account if you keep pushing forward with work that has a positive impact on those communities."
Maintaining influence is the key advice that Eric Johnston III of Coca-Cola gives McDonald's entrepreneurs, by building positive relationships, they will always be rewarded. And they are lovin' It.
Also of interest