Is Maduro innocent? Keys to understanding the political motives behind The New York Times video report
A paper published by this media favors its anti-Trump agenda over the national emergency of humanitarian crisis in Venezuela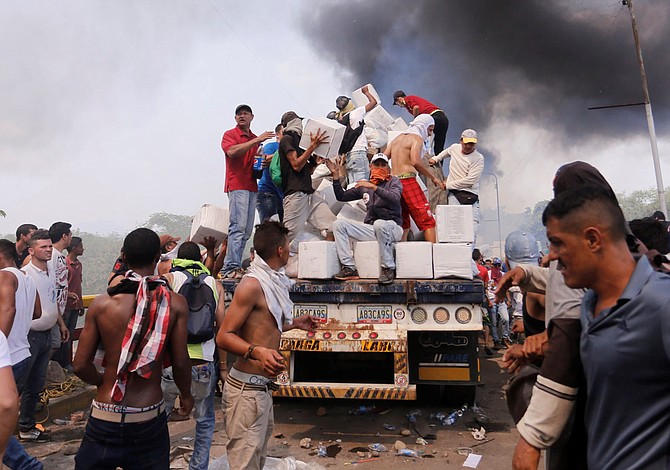 By Ricardo Sánchez-Silva
On Sunday, March 10th , in the midst of the tragic events that have unfolded in Venezuela, where more than 20 states have gone three days without electricity, The New York Times (NYT) decided to air a video, which according to them, depicts evidence of how hooded protesters had presumably burnt down the truck with humanitarian aid that had attempted to enter Venezuela through the Colombian border on February 23rd. Based on the former, according to the New York Times, the regime of Nicolas Maduro is "innocent" of the accusations made by the US government regarding this incident.
In this analysis we broke down the audiovisual material so as to understand the motivation behind the publication made by this media outlet, which seems to undermine the fact that the entry of the humanitarian aid was met by repression and the use of paramilitary forces ("colectivos" and prisoners) which attacked the population that declared itself in favor of the entrance of supplies.
Breakdown of the audiovisual content
• The NYT piece begins in minute 0:28 focusing on how the administration of President Donald Trump blamed the Maduro dictatorship of burning the humanitarian aid, instead of offering the public concrete facts and details describing how the security forces blocked the access of the trucks carrying the humanitarian aid or showing the repression used against the population that pleaded for the entrance of the trucks. Just in minute 0:28 they (NYT) launched the first capture of a tweet from Senator Marco Rubio, quoting another publication in the social network of Colombian media NTN24, which ensures that the vehicles were burned by the Bolivarian National Police (PNB).
"The investigation carried out by the NYT shows how officials of the US government made accusations without having the complete facts", according to the NYT´s publication.
• "The Venezuelan crisis reached its critical point at the beginning of 2019, when the leader of the opposition, Juan Guaidó, declared himself president", narrates the video in minute 0:47. However it does not specify the constitutional foundations on which the President of the National Assembly relied upon to divest his functions, nor does it mention what led him to take that legal and legitimate action, (based upon articles 233 and 333 of the Venezuelan constitution), with the backing of an open council held in the capital of the country, Caracas. The NYT also chooses to ignore all those who were assassinated, wounded and detained as political prisoners during the protests of 2014 and 2017, which depict in detail the ongoing crimes against human rights carried out by the Maduro dictatorship.
Articles 233 and 333 of the Venezuelan Constitution, which back up Juan Guaidó legitimacy as interim president, state that:
Article 233: The President of the Republic shall become permanently unavailable to serve by reason of any of the following events: death; resignation; removal from office by decision of the Supreme Tribunal of Justice; permanent physical or mental disability certified by a medical board designated by the Supreme Tribunal of Justice with the approval of the National Assembly; abandonment of his position, duly declared by the National Assembly; and recall by popular vote.
When an elected President becomes permanently unable to serve prior to his inauguration, a new election by universal suffrage and direct ballot shall be held within 30 consecutive days. Pending election and inauguration of the new President, the President of the National Assembly shall take charge of the Presidency of the Republic.
When the President of the Republic becomes permanently unable to serve during the first four years of this constitutional term of office, a new election by universal suffrage and direct ballot shall be held within 30 consecutive days. Pending election and inauguration of the new President, the Executive Vice-President shall take charge of the Presidency of the Republic.
In the cases described above, the new President shall complete the current constitutional term of office. If the President becomes permanently unable to serve during the last two years of his constitutional term of office, the Executive Vice-President shall take over the Presidency of the Republic until such term is completed.
Article 333: This Constitution shall not cease to be in effect if it ceases to be observed due to acts of force or because of repeal in any manner other than as provided for herein. In such a case, every citizen, whether or not vested with official authority, has a duty to assist in bringing it back into actual effect. (READ MORE: PAGE 2)