Más allá de la lista de los 100
¿Quién selecciona a los 100 poderosos y cómo se eligen?
Redacción | El Tiempo Latino | 5/30/2019, 4:04 a.m.
Para la segunda edición de The Powermeter en Washington, D.C., El Tiempo Latino abrió un proceso de nominación para poder seleccionar a cien individuos excepcionales para la lista Powermeter 100. Las nominaciones se recolectaron en Internet y cualquier persona podía enviar nominaciones. Los nombres de los nominados y otra información que se incluye en el formulario de nominación solo se revelan dentro de los Jueces del Comité del Powermeter para que ellos seleccionen a las 100 personas que son más influyentes para la comunidad latina del área metropolitana de Washington, DC. Los miembros del Comité de este año son: Gabriela Mossi, consultora; Abel Núñez, director ejecutivo de Central American Resource Center (CARECEN); Lyda Vanegas, directora de comunicaciones y relaciones públicas de Mary's Center; y Geovanny Vicente Romero, estratega político y consultor internacional. Además, el publisher y CEO de El Tiempo Latino, Javier Marín, la chief editor, Ana Julia Jatar y el editor ejecutivo, Rafael Ulloa también son parte del Comité de The Powermeter.
Si tiene preguntas sobre la lista The Powermeter 100, por favor escriba a events@eltiempolatino.com o envíe una carta a El Tiempo Latino - Powermeter, 1440 G St NW, Washington, DC 20005.
THE POWERMETER: BEYOND THE 100 LIST
Who chooses the 100 honorees and how are they chosen?
For the second Powermeter DC edition, El Tiempo Latino launched a call for nominations in order to select 100 exceptional individuals for the Powermeter 100 list. Nominations for the Powermeter were submitted online by any person. The names of the nominees and other information about the nominations are only revealed within the Powermeter Committee Judges in order to select the 100 honorees. This year we received more than 400 nominations from the general public. After a careful review of each nomination, the Powermeter 2019 Committee selected the 100 people who most made an impact in the Washington DC Metropolitan Area's Latino community. This year's Committee members are: Gabriela Mossi, Consultant; Abel Núñez, Executive Director, Central American Resource Center (CARECEN); Lyda Vanegas, Director of Communications and Public Relations, Mary's Center; and Geovanny Vicente Romero, Political Strategist and International Consultant. Additionally, El Tiempo Latino Publisher/CEO, Javier Marin, Chief Editor, Ana Julia Jatar and Executive Editor, Rafael Ulloa, are also part of the Powermeter Committee.
For questions about the Powermeter 100 list please write to events@eltiempolatino.com or send a letter to El Tiempo Latino - Powermeter, 1440 G St NW, Washington, DC 20005.
---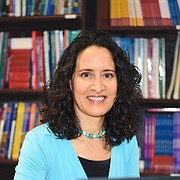 Gabriela Mossi
Consultant
Gabriela Mossi's professional background includes 19 years of experience in economic and social development with multilateral organizations, university think tanks, local government, and nonprofits including the Kellogg Institute, the University of Maryland, NCLR (now UnidosUS), and The World Bank. For eight years she concentrated on local economic development particularly in the District of Columbia with the GWHCC Foundation and as consultant for various organizations. She completed graduate degrees in international development and nonprofit management from the Institute of Social Studies (The Netherlands) and Universidad Complutense de Madrid (Spain). She holds a Bachelor's in Foreign Service from Georgetown University. Her main areas of expertise include nonprofit management and program development; fostering cooperative relationships among private, governmental, and nonprofit organizations; assisting groups with work planning, streamlining and prioritizing workflow; community outreach to multicultural and immigrant communities; and improving volunteer management. Ms. Mossi is fluent in Spanish, and conversant in Portuguese and Italian.